第20回 スペイン・サラマンカ日本文化週間 – 2021 XX Salamanca Semana Cultural del Japón – 2021 Spain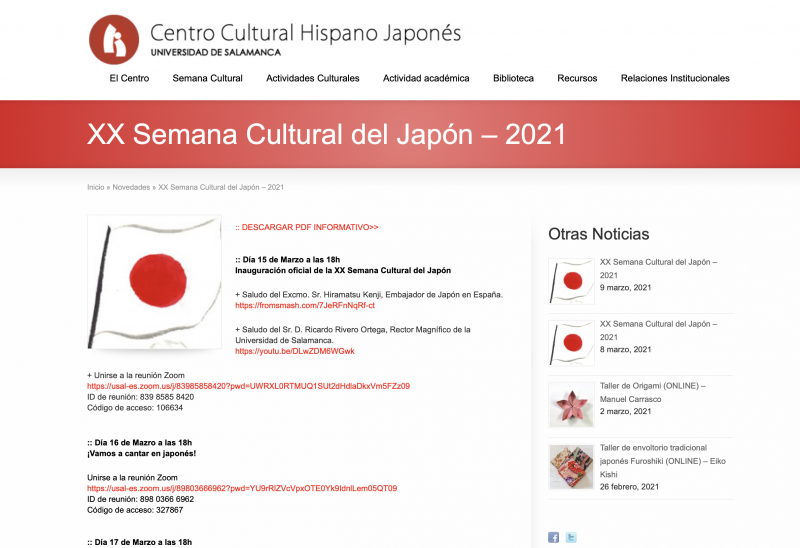 会 期 2021年3月15日〜21日
場 所 

サラマンカ大学日西文化センター
開会式 3月15日(月)18:00 【日本時間 3月16日(火)午前2時】

Zoomで参加
https://usal-es.zoom.us/j/83985858420?pwd=UWRXL0RTMUQ1SUt2dHdlaDkxVm5FZz09
ID de reunión: 839 8585 8420
Código de acceso: 106634
開会式では千葉蒼玄の挨拶映像が流れます。
会期中には千葉蒼玄のPVを加えた映像が

こちら

でご覧いただけます。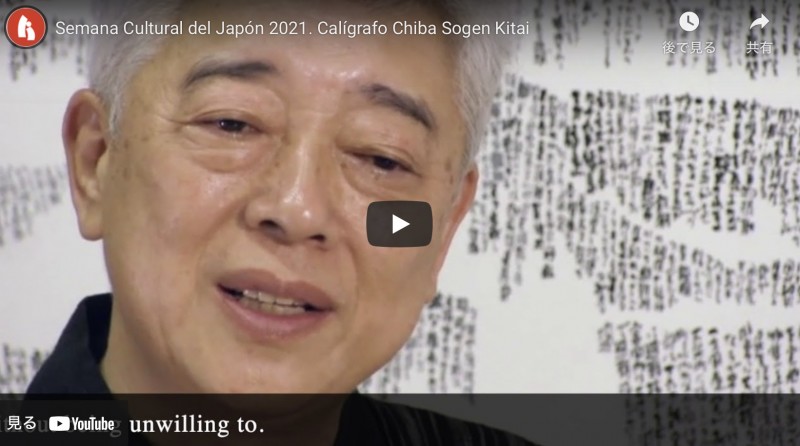 Period 15 – 21 March, 2021
Venue 

Centro Cultural Hispano-Japonés Universidad de Salamanca
Día 15 de Marzo a las 18h 【am 2:00 on 16th, March in Japan】
Inauguración oficial de la XX Semana Cultural del Japón


Join the Zoom meeting
https://usal-es.zoom.us/j/83985858420?pwd=UWRXL0RTMUQ1SUt2dHdlaDkxVm5FZz09
ID de reunión: 839 8585 8420
Código de acceso: 106634
At the opening ceremony, there will be a greeting video of Sogen Chiba.
PV of Sogen Chiba

here

during the period.
-Vídeo sobre CHIBA Sogen (calígrafo). Kitai Gallery. Duración: 10 minutos.Vídeo producido por el Museo de Arte Metropolitano de Tokio durante la exposición "Contemporary SHO: Ver, conocer y sentir la caligrafía contemporánea", celebrada entre 2018 y 2019. Proyectado in situ durante dicha exposición, el vídeo ha sido ligeramente modificado con motivo de la Semana Cultural del Japón del Centro Cultural Hispano-Japonés.
Sogen Chiba (1955, Ishinomaki, prefectura de Miyagi)
Comenzó a estudiar caligrafía a los nueve años, y ya a una edad temprana logró diversos premios en las exposiciones caligráficas organizadas por la Asociación Mainichi Shodo, de la cual es actualmente consejero. Entre sus trabajos, expuestos también en EE. UU., Europa, China o Corea del Sur, destaca la obra de gran formato 3.11 Requiem and Revival, inspirada en el gran terremoto del este de Japón de 2011 y que desde 2020 forma parte de la colección del LACMA, el principal museo de arte de la costa oeste de EE. UU.